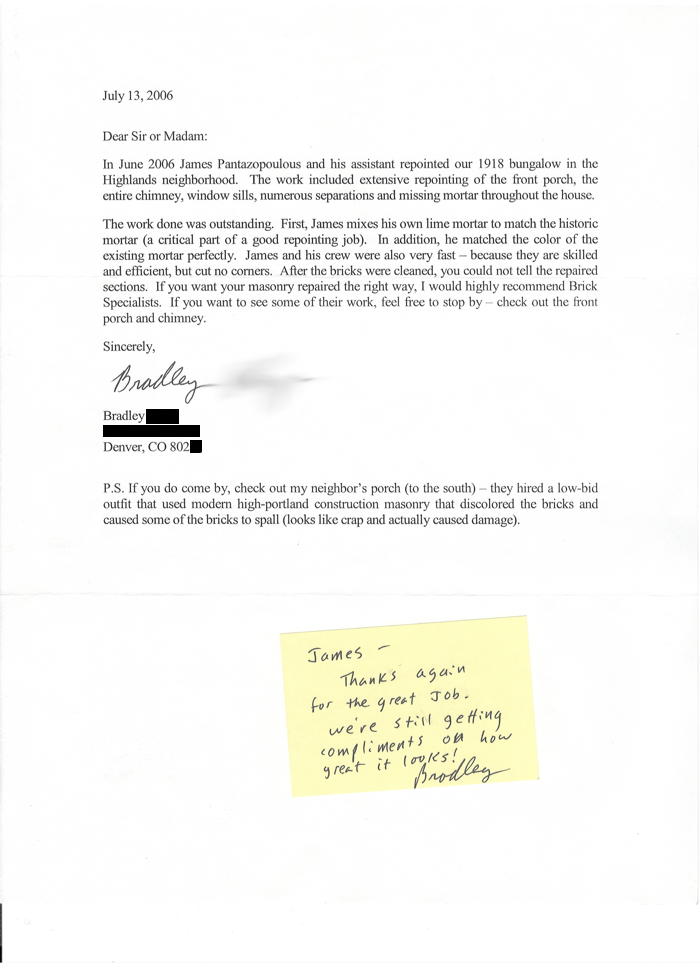 Click to view enlarged copy
July 2006
Dear Sir or Madam:
In June 2006 James Pantazopoulous and his assistant repointed our 1918 bungalow in the Highlands neighborhood. The work included extensive repointing of the front porch, the entire chimney, window sills, numerous separations and missing mortar throughout the house.
The work done was outstanding. First, James mixes his own lime mortar to match the historic mortar (a critical part of a good repointing job). In addition, he matched the color of the existing mortar perfectly. James and his crew were also very fast - because they are skilled and efficient, but cut no corners. After the bricks were cleaned, you could not tell the repaired sections. If you want your masonry repaired the right way, I would highly recommend Brick Specialists. If you want to see some of their work, feel free to stop by - check out the front porch and chimney.
Sincerely,
Bradley T. of Denver, Colorado (Highlands)
P.S. If you do come by, check out my neighbor's porch (to the south) - they hired a low-bid outfit that used modern high-portland construction masonry that discolored the bricks and caused some of the bricks to spall (looks like crap and actually caused damage).
NOTE: James - Thanks again for the great job. We're still getting compliments on how great it looks! Bradley