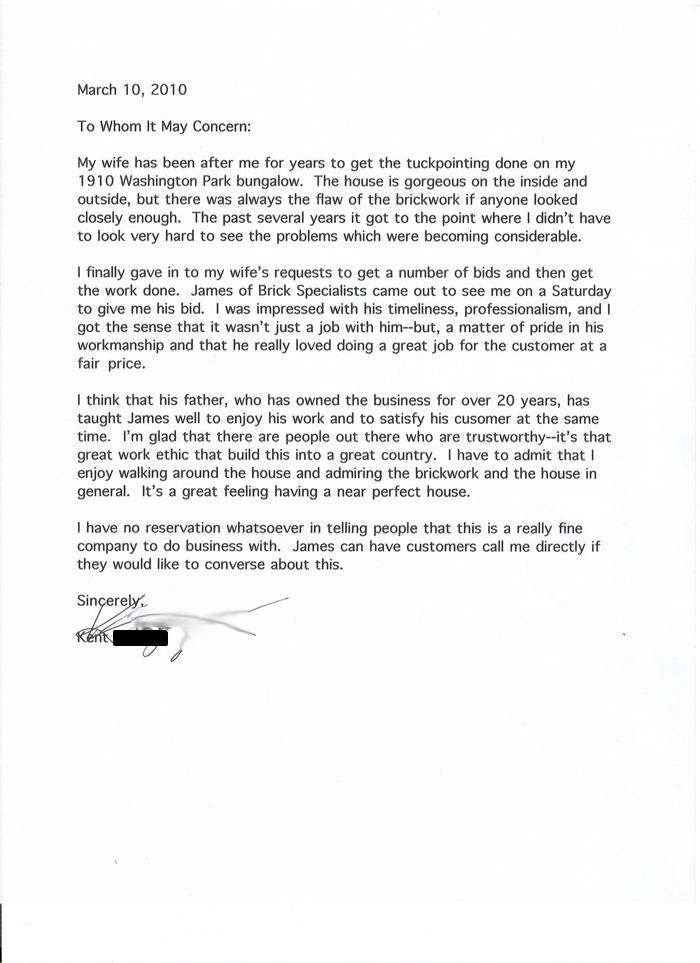 Click to view enlarged copy
March 2010
To Whom It May Concern:
My wife has been after me for years to get the tuckpointing done on my address omitted bungalow. The house is gorgeous on the inside and outside, but there was always the flaw of the brickwork if anyone looked closely enough. The past several years it got to the point where I didn't have to look very hard to see the problems which were becoming considerable.
I finally gave in to my wife's requests to get a number of bids and then get the work done. James of Brick Specialists came out to see me on a Saturday to give me his bid. I was impressed with his timeliness, professionalism, and I got the sense that it wasn't just a job for him–but, a matter of pride in his workmanship and that he really loved doing a great job for the customer at a fair price.
I think that his father, who has owned the business for over 20 years, has taught James well to enjoy his work and to satisfy his customers at the same time. I'm glad that there are people out there who are trustworthy–it's that great work ethic that build this into a great county. I have to admit that I enjoy walking around the house and admiring the brickwork and the house in general. It's a great feeling having a near perfect house.
I have no reservation whatsoever in telling people that this is a really fine company to do business with. James can have customers call me directly if they would like to converse about this.
Sincerely,
Kent G. of Denver, Colorado (Washington Park)